Megaphone
Prize for language education and language support for adolescents and young adults
We honor exemplary language education and language support projects for adolescents and young adults in Germany. The aim is to enable young people to realize their potential in education and work, to develop their own identity and to participate in a democratic society in a self-determined way.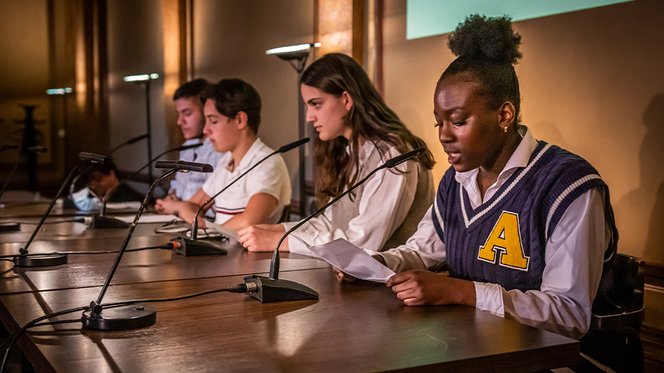 More than just language education
Around one fifth of all school leavers in Germany have considerable weaknesses in the use of German as an educational language. These young adults have difficulty reading, understanding and writing simple texts. As a result, their opportunities for social participation and the choice of their individual educational and career paths are significantly limited.
With the Megafon Award, we support projects for adolescents and young adults in secondary schools, during training, and in transitional systems - such as vocational preparation classes. Since 2021, we have awarded annual prizes to innovative initiatives whose offerings go beyond pure German lessons according to the curriculum and integrate aspects such as career orientation and training, learning strategies or creative expression.
---
Application
Who can apply?
Non-profit or public project sponsors from all over Germany can apply. The project can take place in a school or non-school context, but must not be part of regular teaching. It should be designed with the target group in mind and be based on current findings in language didactics.
We also attach great importance to practical implementation that directly benefits the target group of the project - primarily scientific projects are not awarded.
We award the prize in two categories:
Projects for young people aged 10 - 16
Projects for young adults aged 17 - 25
In both award categories, a main prize of 25,000 euros and a sponsorship prize of 10,000 euros are presented.
The application phase for the third call has already ended.
---
Contact
---
Why language education and language promotion are important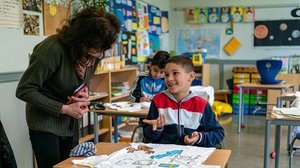 A confident and self-assured use of language is important for a self-determined life and participation in our society. Conversely, language deficits have an impact on performance at school and represent a hurdle in vocational training. Low-literate people are often denied opportunities for professional and social advancement. With the Megafon Award for Language Education and Language Support for Adolescents and Young Adults, we want to support projects that break down these barriers.
Saša Stanišić: "There is no word for all words."
Author Saša Stanišić gave the keynote speech at the presentation of the Megafon Award 2022. He very vividly described the opportunities and ways of promoting language as implemented by the Megafon Award-winning initiatives.
Saša Stanišić's keynote speech can be downloaded as text.
---
Laureate 2022
Main prize: LITALPHA - Literacy development in literacy classrooms
Category I: Offers for 10 to 16 year-olds
In the "LITALPHA" project, prerequisites are created for children and young people aged 10 to 16 with migration experience to be able to follow subject lessons in regular classes. To this end, the University of Bremen, the State Office for Schools and a school from Bremen with four literacy classes are working together on the development of appropriate teaching concepts and materials and are integrating these into lesson design with a concrete point of reference, the schoolyard.
Project sponsor: LehrLernwerkstatt Subject, Language, Migration of the University of Bremen.
Promotional award: "Schoolhouse novel" project
The award in this category went to the "Schulhausroman" (Schoolhouse Novel) project run by Literaturhaus e.V., Hamburg. The idea is that a writer (also known as a writing coach) visits grades 7 to 10 regularly over a period of several months to help them write their own novel.
---
Main prize: "Mission Klinik" - One day of German before training #Escape Room for language promotion in nursing care
Category II: Offers for 17 to 25-year-olds
Getting young people excited about a career in care while building relevant language skills is a major challenge. With "One Day of German - Before Training. #Escape Room for language promotion in nursing" is intended to kick off a series of language-promoting digital Escape Rooms. The digital tool is intended to provide support in a playful and realistic way to familiarize oneself with everyday working life at a clinic.
Project sponsor: passage gemeinnützige Gesellschaft für Arbeit und Integration mbH, Hamburg, Germany.
Promotional Award: Vocational Reading and Writing Promotion (BeLeSen)
The project "Digital Vocational Literacy Support" of the University of Bremen and the PH Weingarten enables teachers in transitional and vocational preparation measures to provide low-threshold support to adolescents and young adults in improving their reading and writing skills. With the help of the online portal "lea.online", newly available digital support materials for literacy practice were made accessible.
Jury 2022
Anant Agarwala, Die ZEIT, Hamburg
Prof. Dr. Simone Ehmig, Institute for Reading and Media Research of Stiftung Lesen, Mainz
Julia Freienberg, among others, Junges Literaturhaus, Hamburg
Dr. des. Aylin Karabulut, University of Duisburg-Essen and Employers for Equality GmbH, Mering
Anja Kittlitz, SchlaU Workshop for Migration Education gGmbH, Munich
Karin Küßner, AlphaDekade Coordination Office at the Federal Institute for Vocational Education and Training, Bonn
Anna Meister, ZuBaKa gGmbH, Frankfurt a.M.
Prof. Dr. Astrid Neumann, Chair of German Language Teaching, Leuphana University, Lüneburg
Philip Oprong' Spenner, teacher and author, Hamburg
Martina Reynders, Center for Language Education, Berlin
Ralf Schweikart, Working Group for Youth Literature e.V., Munich
Dr. Trang Schwenke-Lam, Schotstek gGmbH, Hamburg
---
You might also be interested in