Studies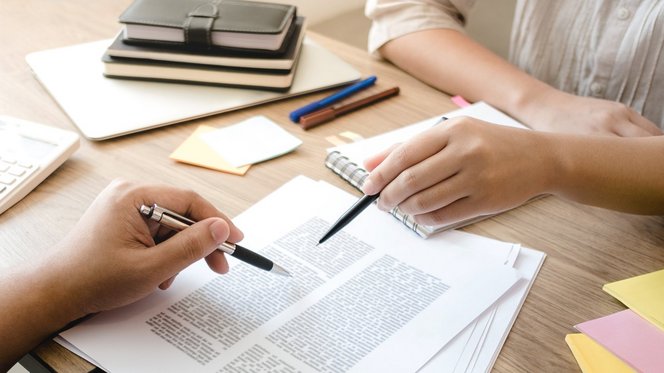 We are specifically committed to application-oriented research and the transfer of science to society. To this end, we support studies that fit in with our foundation's focus areas and that particularly advance work in these fields.
In the study on "Adaptive Learning," business didacticians, computational linguists and AI specialists researched the foundations for an adaptive AI-based learning platform in the field of economic education. The research project "Why don't Germany's researchers start up?" by the Entrepreneurship Research Institute at the Technical University of Munich took an in-depth look at this issue and identifies possible reasons and challenges in the publication. The research project by iff - institut für finanzdienstleistungen e.V. conducted a representative survey to determine the credit literacy of young adults in Germany and which mechanisms can help strengthen it.
Adaptive learning platform for teaching business
Adaptive, AI-based learning offers the opportunity to individually adapt learning content to students. In the research project "Adaptive Learning in Economic Education (ALEE)", researchers are laying the foundations for such a learning platform in economic education.
In an interdisciplinary collaboration, economic didacticians, computer linguists and AI specialists are researching the foundations for an adaptive AI-based learning platform in economic education.
On the platform, students receive automated texts, tasks and feedback - tailored to their level of proficiency. This means that learning takes place at a level that is conducive to learning and thus motivating. In this way, the learning platform supports teachers in the design of differentiated instruction.
In addition to prior knowledge and skills, the platform takes into account the individual cognitive characteristics and motivation of the students. Furthermore, the learning platform helps teachers to compensate for deviating support from the parents and educational language skills.
Participating scientists:
Prof. Dr. Ulf Brefeld (Leuphana University, Lüneburg)
Prof. Dr. Dirk Loerwald (Carl von Ossietzky University Oldenburg and Institute for Economic Education, Oldenburg)
Prof. Dr. Detmar Meurers (Eberhard Karls University of Tübingen)
Duration: March 2021 - July 2024
---
Why don't Germany's researchers start up?
The research project of the Entrepreneurship Research Institute at the Technical University of Munich is the first to examine scientific and entrepreneurial identities at universities.
Germany is one of the world's top locations for cutting-edge research and Europe's most competitive country. Nevertheless, Germany lags far behind other innovation-based economies as a location for start-ups. German universities in particular are not yet fully exploiting their entrepreneurial potential. Yet society could benefit from the know-how of researchers - for example, through new products, services or jobs.
For scientists, founding a company can be a promising career path. Paradoxically, the assessment of start-up opportunities in Germany has been rising steadily in recent years, but the number of start-ups has not. Is this due to the challenging transformation from scientists to entrepreneurs, their different identities or mindsets?
Together with the Joachim Herz Foundation, Prof. Dr. Dr. Holger Patzelt and Prof. Dr. Nicola Breugst from the TUM Entrepreneurship Research Institute in Munich have investigated just that. Their research project, "Scientific and Entrepreneurial Identities at Universities," is the first to analyze relevant, but previously neglected, psychological processes of academic spin-offs. To this end, Germany's most renowned entrepreneurship researchers have assembled an interdisciplinary team from the fields of start-up research, psychology and anthropology.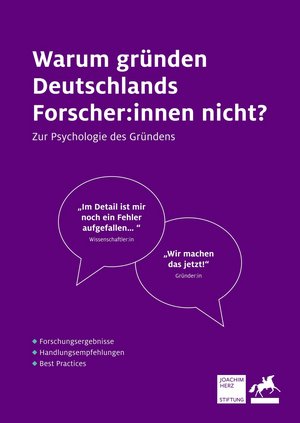 The special feature of the research project is that the scientists went directly to the founding teams, spoke intensively with the founders, observed them over a long period of time and interviewed them.
The results show how scientists become successful founders and help to understand which influences support or inhibit this process. They help understand how interdisciplinary founding teams successfully collaborate, find compromises, and develop shared company values. They also provide guidance on how organizations can produce more founders.
Duration: The project ran for five years from 2018 to 2022.
Sources:
---
---
Credit literacy of young adults
In the course of our lives, we are repeatedly confronted with financial bottlenecks. Especially in younger years, it is not possible to fall back on savings for larger expenditures such as the purchase of real estate, investments in education or even consumer goods. A loan makes it possible to actively shape one's life. Over-indebtedness, on the other hand, can threaten personal sovereignty. Financial education is the cornerstone for making informed decisions, weighing up credit alternatives and assessing the consequences.
The iff Overindebtedness Report 2022 shows for Germany that for 18.6 percent of those seeking advice in debt counseling centers, the overindebtedness situations in 2021 could have been avoided. The main causes are misguided consumer behavior, lack of financial education or inefficient budgeting. However, according to a survey conducted in 2022, young people (16- to 25-year-olds) rate their financial knowledge as only 3.3 on a school grade scale of 1 (very good) to 6 (insufficient). When it comes to dealing with loans, they even rate themselves as only adequate (4.1).
This is where the iff - institut für finanzdienstleistungen e.V. research project comes in. They have developed a comprehensive measuring instrument for credit competence. In a representative survey and qualitative interviews, they are using it to determine what the credit competence of young adults in Germany is like and what mechanisms can help strengthen it.
Initial results show that credit literacy is a multidimensional concept. In addition to declarative knowledge, procedural knowledge as well as beliefs and values on financial issues must also be included. If credit literacy of young people between 16 and 20 years is measured with this instrument, it is about 45 percent.
Participating researchers:
Dr. Hanne Roggemann (project management)
Prof. Dr. Ingrid Größl
Dr. Sally Peters
Dr. Duygu Damar
Dr. Helena Klinger
all iff - institute for financial services e.V.
Duration: November 2021 - February 2023
Sources:
---
Contact